Pagosa's historical life began long before Captain John Macombs' visit in 1859. The surrounding Indians came to Pahgosa because they valued the hot springs that run through the area. The hot springs were inactive as a resort for several years, but major projects are currently in the making to revive this part of the town's history and economy.
The local economy based on timber and ranching has given way to a present-day economy based on tourism, and for the past several years, construction. As the communications infrastructure improves, opportunities are growing for individuals and small businesses that depend on broadband connections to make a living. We're starting from a very small base, but as people discover the appeal of living in this area, Pagosa Springs is definitely one of the little Colorado mountain towns experiencing the "settling of the modern American West."
Located at the junction of U.S. Highways 160 and 84, the town is within easy driving distance of several major cities:
| | |
| --- | --- |
| Durango | 61 miles |
| Denver | 300 |
| Santa Fe | 160 |
| Albuquerque | 212 |
| Phoenix | 501 |
| Dallas | 658 |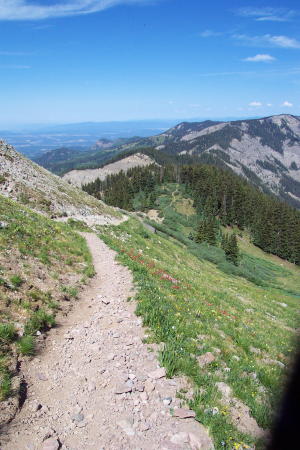 Pagosa Springs is nestled below the rugged mountains of southwest Colorado. Altitude is about 7000 feet with surroundings peaks reaching to 12,000 feet. It's a four-season, Sun Belt climate – with 300+ days of blue skies and sunshine annually. The area is a huge natural playground surrounded by 3 million acres of San Juan National Forest and two Wilderness Areas. Rivers, lakes, mineral hot springs, and abundant wildlife all add to creating an outdoor recreational paradise. Area attractions include Wolf Creek ski area, known for the "most snow in Colorado" and a 27-hole championship golf course.
People come to Pagosa Springs for many reasons: the majestic views of the great San Juans (Continental Divide), the sunny four-season climate, the lure of vast outdoor recreational opportunities during summer and winter, the relaxing atmosphere of the local lifestyle. Shopping is not on this list … are you prepared for life in an area where the nearest mall of size is 160 miles away in Santa Fe?
The basics are covered here in town much more than they were just a few years back. When Todd and I moved here 25 years ago, there was one stop light and one grocery store. Today, there is still one main grocery store plus two natural foods stores, and Walmart has finally arrived in Pagosa. These days our trips to Durango and Santa Fe are more for fun and adventure than for necessity. Still, the local offerings are meager compared to larger metro areas.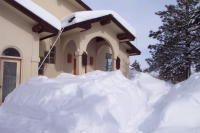 It snows in the mountains. It's part of the allure for most of us living here year 'round … fluffy white stuff to play in through the crisp sunny winters. And it does take some preparation to enjoy the winter months. Four-wheel drive vehicles, snow tires or chains, a blade or snow blower, or a snow-removal contract for your driveway are considerations to stay mobile. Typical annual snowfall is nearly 100 inches around town and around 500 inches up at Wolf Creek.
We like to tout Pagosa's pleasant four-season climate. Actually, there is a fifth season that gets much less press. In the springtime all that snows melts, ushering in the mud season. This also relates to a rural economy that has not supported many paved roads. So, clean-car buffs need to compensate, or relax , to deal with muddy roads.
Sunshine is intense. It's easier to burn, both summer and winter, at this altitude.
By definition, living in the mountains requires thriving at high altitude. Some people's health problems are aggravated by the altitude and thinner mountain air. Gardening definitely requires a new skill-set for those of us transplants from the Midwest, where you plant seeds and they just grow!
Water is a precious resource. This part of Colorado is basically high desert. We depend on snow melt from the mountains to fill our lakes and streams, and as the county population grows, storage of that melt is an issue. We have recently experienced drought years, along with the rest of the Southwest, and we were under water restrictions during the summers of 2002 and 2003.
Livestock have "rights". From its ranching roots, Colorado is an open range state. If you don't want cattle on your property, it's your responsibility to fence them out. (Many of the subdivisions have fenced perimeters.)
Wildlife is abundant. No lions or tigers here … bears, bobcats and cougars,yes. Trash containers, BBQ grills, and bird feeders attract the bears, so some lifestyle adjustments need to made to keep these guys from becoming nuisances or getting into big trouble with the authorities (Division of Wildlife). Also, sadly, more deer and elk are killed on the highway between Pagosa Springs and Durango each year than during hunting season. Vigilant driving please – hitting an elk will ruin your day and the elk's, and usually damage your vehicle.
These are just a few realities of living in a small mountain town. They are not drawbacks for most of us choosing to live here. One or more of them became real problems for many who moved here – and then left. It's worthwhile spending some time visualizing what daily life will be like and seeing that you will probably thrive, BEFORE moving to the mountains.
WILDLIFE WARNING FOR GOLFERS:
The Colorado Division of Wildlife is advising golfers to take extra precautions and be on the alert for bears while on San Juan National Forest golf courses.
They advise golfers to wear noise-producing devices such as little bells on their clothing to alert, but not startle the bears unexpectedly.
They also advise you to carry pepper spray in case of an encounter with a bear.
Golfers should watch for signs of bear activity and be able to recognize the difference between black bear and grizzly bear droppings on the golf course. Black bear droppings are smaller and contain berries and possibly squirrel fur.
Grizzly bear droppings have little bells in them and smell like pepper spray.
---
(This IS a joke… The only Grizzlies in the Pagosa area are at the Rocky Mountain Wildlife Park – caged.